Chicago Botanic Garden

We've been taking an annual trip to the Chicago Botanic Garden for a few years now. The Garden's hundreds of acres unfurl into an infinite number layered views, gushing with color and texture. I've spent many, many hours exploring the individual themed gardens, walking as many of the crushed gravel paths as I could, maximizing my time in this planted oasis. But every year, I find more. More hidden corners of the grounds, more plant combinations, more sights for these sore city eyes.







We always take our trip out to the Gardens on Labor Day. The bonus day, third day in a three day weekend nestled well inside the warm weather season. This year, it felt like half the city of Chicago had the same idea. The gardens were full. Multi-generational families lingered on bridges, beers clinked in the grill patio, and rows of strollers lined up outside the butterfly tent.



There were thousands of people exploring the gardens, bickering, laughing, sharing seating space on wide, flat rocks. We listened in on friends catching up, a wife telling her husband her cheeseburger-and-red-wine order, mothers and sons giggling about recently made memories. I heard different languages, many of which I couldn't identify. I saw white linen robes and jewel-toned saris billowing with the wind, and baseball caps shielding eyes from the late day sun.
We all wandered from garden to garden. Inspired by the same call to leave our homes and enjoy a day off together, outside. We all sighed in relief under the shade of a tall tree. We all inhaled deep when we passed the scent throw of a flowering plant.



I enjoy spending time in beautiful gardens because I love the plants. The way they look and smell and feel. Their patterns, the way they splay their leaves, the way they catch sun and shade throughout the day. But my favorite part about the CBG might be watching how other people interact with the garden. You don't have to know everything about horticulture or garden design or biodiversity to be able to enjoy the space. You just have to use your senses.




From afternoon until evening, I watched the Garden come in and out of focus. It shone as scads of eyes grazed over its hills and ponds, picking out particular plants as singular objects of attention. And then it faded into the background, sparkling like lens blur, behind the faces and stories of all its visitors.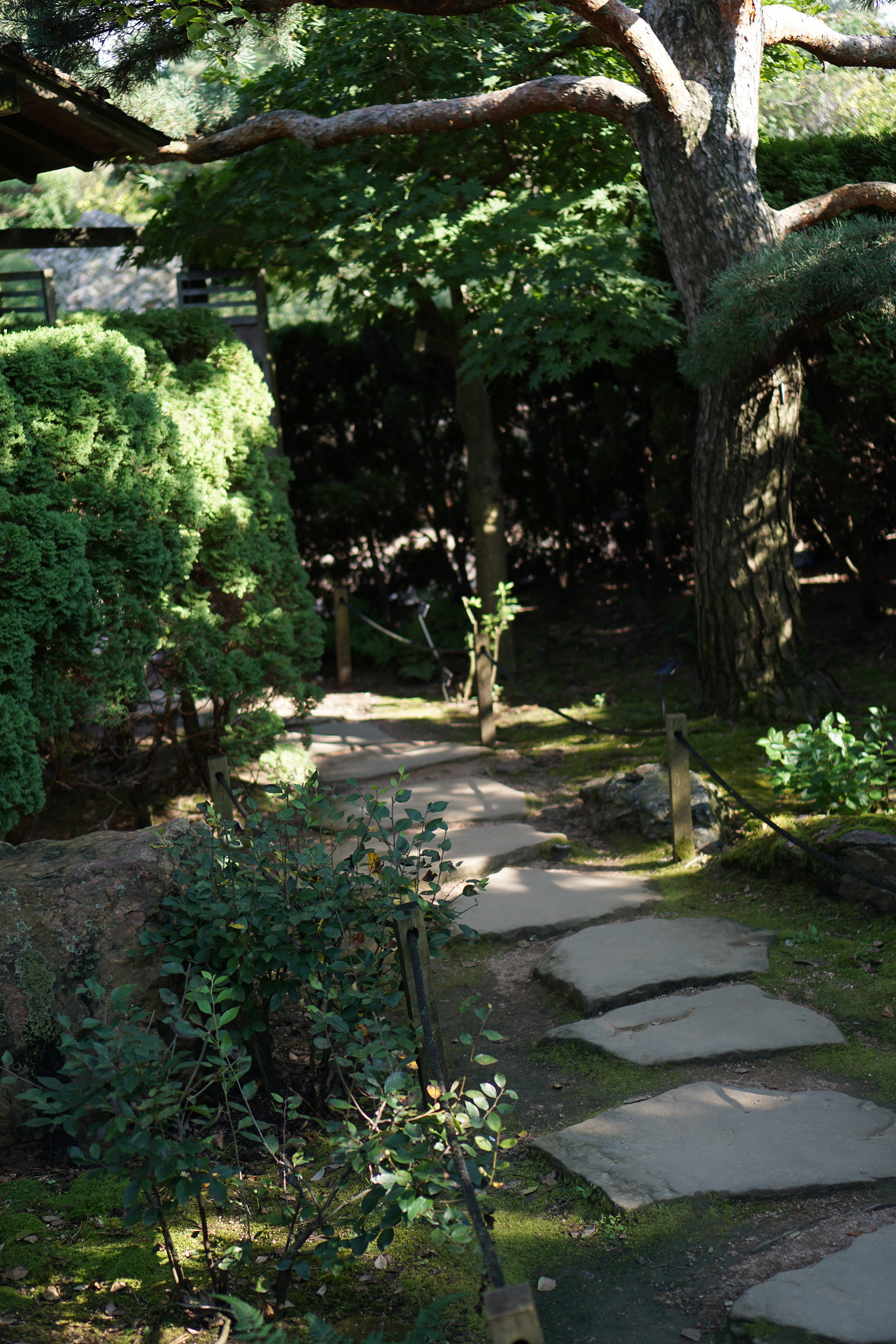 The Chicago Botanic Garden is almost 400 acres of beautifully planted gardens located in Highland Park, a north shore suburb of Chicago. I get there using the Metra Union Pacific North line, which costs about $6 roundtrip. Get off at Braeside and walk 20 minutes to the Visitors Center where you can get your bearings and plan your route. My favorite stops include the Japanese Garden, the Council Ring on Evening Island, the Fruit & Vegetable Garden, and the Prairie. I've only ever been to the CBG in the summer, but it's open year-round and I imagine it is stunning during any season. Parking costs $25-30, but entrance on foot or by bike is free.